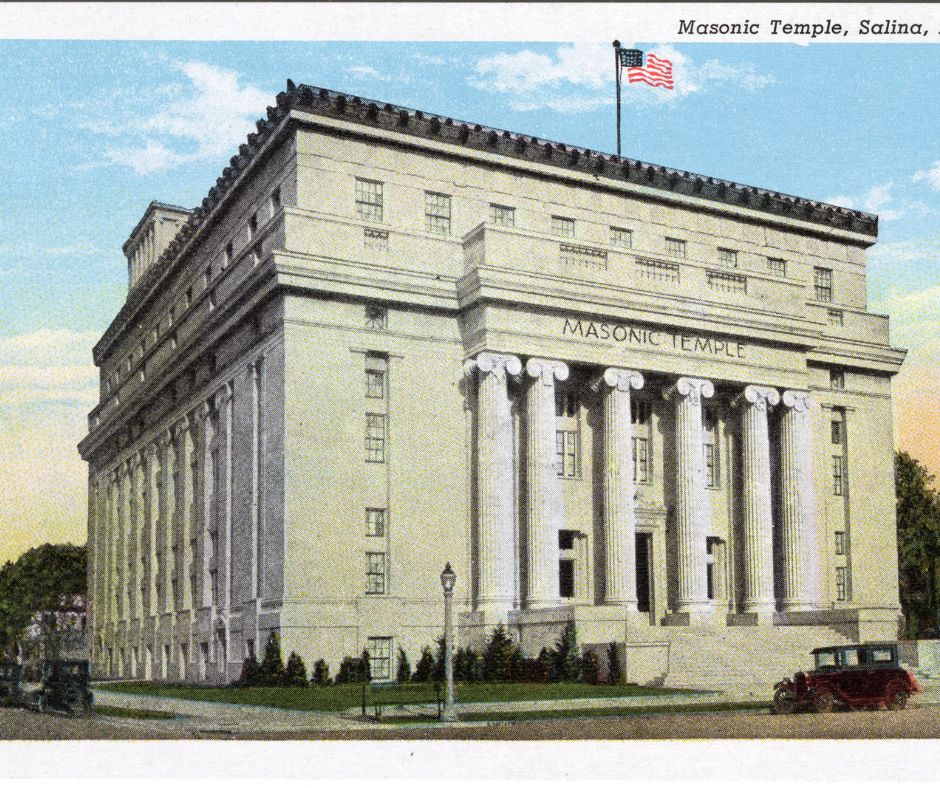 Masonic Center – A Permanent Temple
Outgrowing their current home, dreams of erecting a new Temple large enough to accommodate vast bodies of Masons coalesced in 1919. Forming the Masonic Temple Aid Association with representatives from all five Masonic bodies (Salina Lodge No. 60, York Rite, Scottish Rite, Isis Shrine and Order of the Eastern Star), the Association took out a loan from the Ancient Order of United Workers of America. Land was purchased and an architect hired. Groundbreaking followed in the fall of 1920. Seven years later, after a partial building collapse, subsequent re-engineering, and over $1,000,000 spent, the Masonic Temple was dedicated on October 27, 1927. A week of formal public events and Lodge work followed, including a performance by John Phillip Sousa.
The structural collapse and subsequent expense led to the elimination of several planned exterior and interior features including a rooftop garden with a stage and loft, statuary and lighting fixtures at the main entrance, and a permanent Memorial Room to house traditional fixtures in Freemasonry.
Projecting a sense of importance, permanence and stability, the Masonic Center, historically called the Masonic Temple, is one of only five facilities in the nation designed to house all regional Masonic organizations within one structure. Architecturally, the building has minimal alterations and retains the dramatic spaces and rich interior detail that distinguish it as one of the finest neo-classical temples in the region.
The Temple was donated to the Salina Innovation Foundation in 2017 to keep the building viable to the community. The building now has Wedding & Event spaces, CoWorking, Hourly Meeting Spaces, Visitor & Welcome Center, Grand Theatre, and Kitchen for Hire. Visit The Temple's website to learn more.
Learn more about the Masonic Center's architecture
This is the final stop on the Historic Downtown Salina tour. Proceed back to the Smoky Hill Museum to check out the exhibits, have fun exploring downtown Salina, or check out one of our Salina tours!