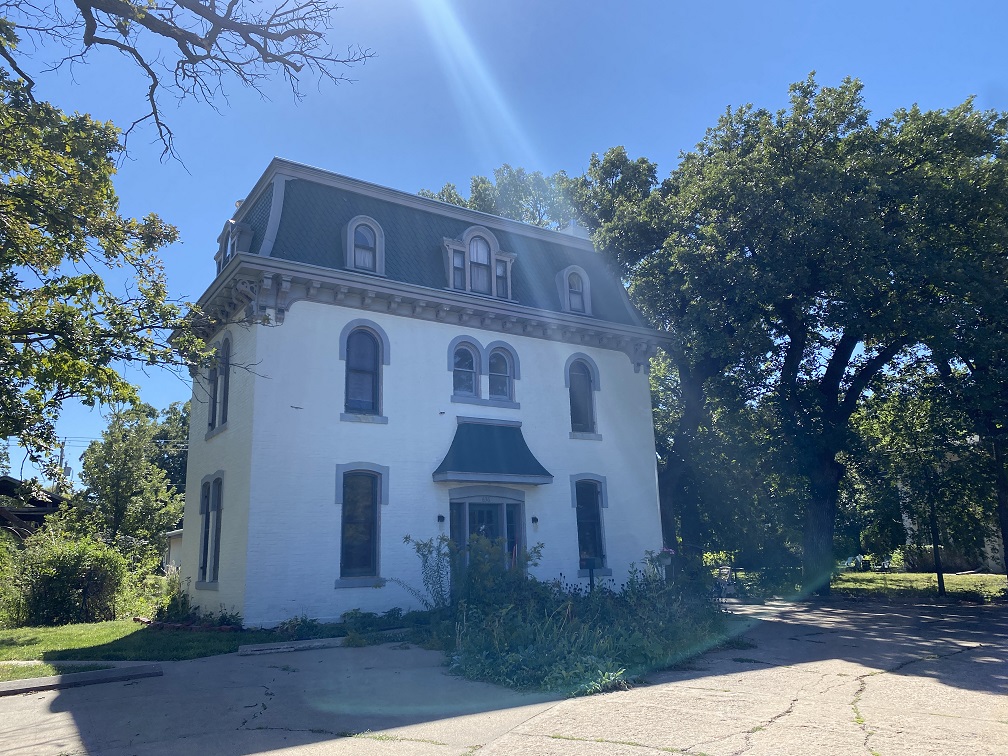 636 East Iron Avenue
The National Register home at 636 East Iron was built in 1875 by Alphonse J and Aggie (Geis) Schwartz, With its Mansard (French) roof, it is an eclectic blend of Renaissance, Second Empire, and Italianate. A.J. Schwartz, who was on track to become a prominent influence in the city's commercial endeavors, most notably hardware, died four years later at the age of 31. His widow and three children, as well as other Schwartz and Skelley relatives continued to live in the home at one time or another.
In 1897, the two Schwartz brothers, Charles and Norbert, then 21 and 18, respectively, left a job and schooling in the East to come back to Salina and 636 East Iron Avenue. Their intent was to dispose of the family's hardware store after an uncle's death. The brothers found the business thriving and decided to stay and reorganize. For several years they ran a retail store and a wholesale operation as J.N. Swartz and Company. When business slowed in the early 1900s, the brothers approached Farmers National Bank for loans. As president of the bank, H.D. Lee took notice and asked them if they would be interested in getting into the wholesale business the right way. The brothers said yes. The Lee Hardware Company was chartered on October 20, 1902.
Both founders of the Lee Hardware Company, Charles eventually became president and Norbert, secretary. When the brothers married, they moved from this address. For many years their sister and brother-in-law, Alice and James A. Skelley, occupied the home. In 1911, Charles and Ethel Schwartz built the house next door to the west at 630 East Iron. It is a Colonial Revival and said to be the first stucco-covered house in Kansas.
This is the final stop on the tour. Proceed back to the Smoky Hill Museum to check out the exhibits, or just have fun exploring Salina!