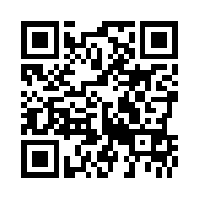 A sample QR code
In short, a QR (quick response) code is a two-dimensional barcode. They hold more information than the barcodes scanned at the supermarket. Here's a link to a more detailed explanation of QR codes.
Almost all modern smartphones or tablets can scan a QR code. Just install a QR code reader app (more info below), open it, and point your device's camera at the QR code. The reader will scan the code and take you to the link contained in the code. It's that simple!
There are several free or low-cost QR code reader apps for every kind of mobile device. Go to the appropriate app store for your phone (Apple App Store for the iPhone/iPad/iPod (open from the device's home screen), Android Market for Android phones/tablets, Appworld for Blackberry devices, or the Windows Phone Marketplace) and search for "QR code reader". Choose one to install and you'll be ready to go!