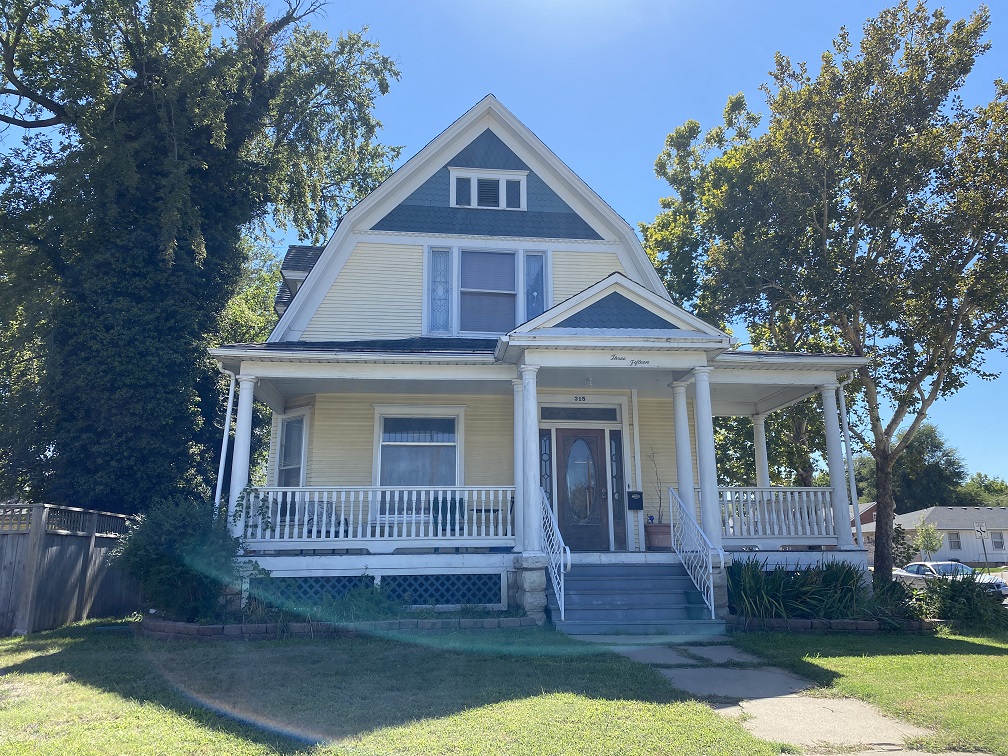 315 Walnut Street
When George R. Cowden and his wife Genevieve (Rice) moved into this residence at 315 Walnut about 1905, they were living almost in his parents' back yard. Their Dutch Colonial Revival style home was popular here in the early 1900s. It boasted an up-to-date, fully equipped bathroom that was featured in the Salina Plumbing Company's advertising book. Genevieve Cowden enjoyed a remarkable singing career in the Salina and Kansas City areas.
Cowden went to work for Lee Mercantile Company after attending Salina High School in the 1890s. He rose from stock boy to food salesman, to furnishings manager. About 1911, he became manager of a garment division that started in a small factory on the second floor of a farm implement and machine shop. The first fifty sewing machines made overalls under the "Jumbo" brand.
According to George Cowden's obituary, he convinced Lee that the company should manufacture work clothes and later coined the name "Union-Alls," a one-piece garment, made primarily for auto mechanics. Sales for the Union-alls increased year by year, the count aided by the number purchased by the U.S. military during World War I. About 1916 the Cowdens moved to Kansas City where both the grocery and garment operations were expanding.
Next Stop: Proceed east on Walnut to 8th Street to the house at 204 S. Eighth St.