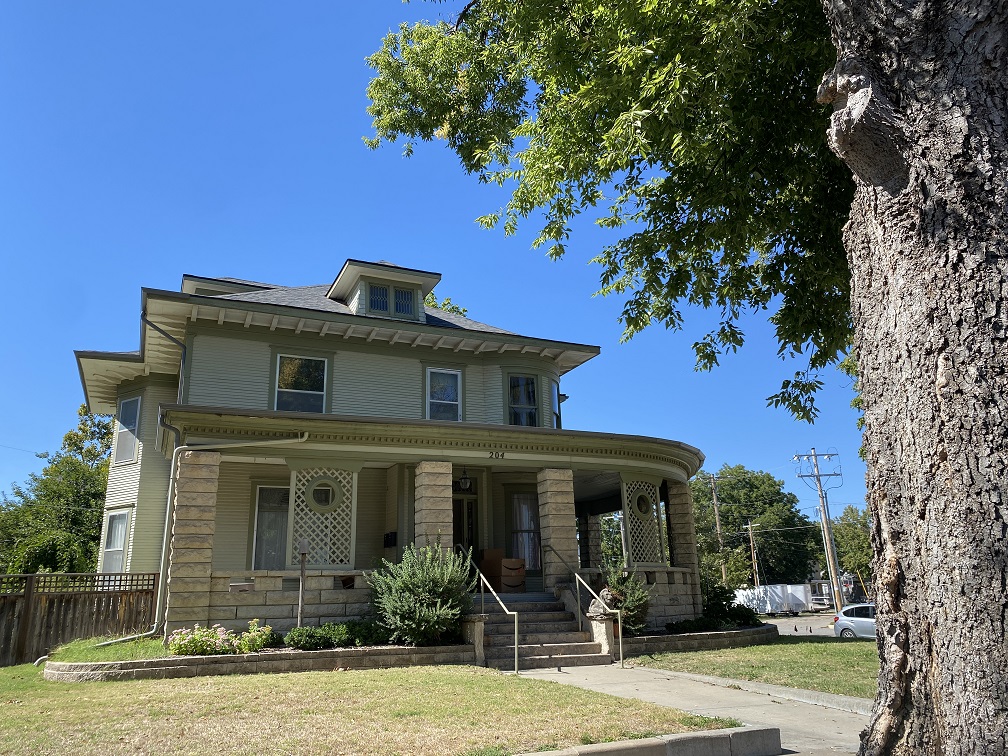 204 South Eighth Street
When Henry David Lee came to Kansas seeking a semi-arid climate, he brought a friend and business associate with him.
Daniel W. Cowden was a young man in his thirties, when he partnered with Lee to establish the Lee Mercantile Company in 1889, and later became one of the founders of the Lee Hardware Company. Daniel and his wife Rosa (Ruhl) moved into this impressive house about 1904. It is an interesting example of a modified Americana Foursquare with Colonial Revival details. Note the cut limestone porch that curves around two sides.
When Daniel Cowden retired as vice-president and general manager of the Lee enterprises in 1919, he and Rosa moved to Kansas City to be with their sons, George and Jay. Daniel helped the younger Cowdens found the Cowden Manufacturing Company, which made work clothes.
From 1919 to 1968 the house was lived in by one or more of four Cummerford sisters—Mary, Catherine, Teresa and Margaret—and a brother, Tom. Ownership passed to Harry Sinsabaugh in 1972 at an estate sale. Currently, it has become a children's day care center.
Next Stop: Proceed to the house next door south to 208 S. Eighth St.